2 pounds beef chuck shoulder pot roast, cut into 1-inch pieces
1/4 cup all-purpose flour
olive oil
1 teaspoon salt
1/4 teaspoon pepper
1/2 cup beef broth
2 cups Burgundy or other dry red wine
2 tablespoons tomato paste
4 crushed garlic cloves
2 teaspoons dried marjoram leaves, crushed
8 ounces baby carrots (about 1-3/4 cups)
8 ounces fresh pearl onions, peeled or frozen pearl onions
8 ounces mushrooms, cut in half if large
Chopped fresh parsley (optional)
Lightly coat beef with flour. Heat 2 tablespoons olive oil in stockpot over medium heat until hot. Brown 1/2 of beef; remove from stockpot. Repeat with remaining beef, adding oil as needed. Remove beef from stockpot and into slow cooker; season with salt and pepper. Add 1/2 cup water to stockpot and deglaze beef drippings. Add this broth to slow cooker.
Stir in wine, tomato paste, garlic and marjoram. Add carrots, onions and mushrooms.
Cook on low heat for 8-10 hours.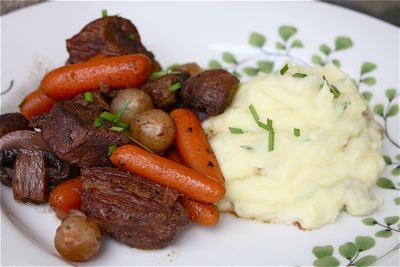 Simply Mashed Yukon Golds
Recipe from Aggie's Kitchen
8 yukon gold potatoes, quartered on halved (depending on size)
salt and pepper to taste
1/2 -3/4 cup lowfat milk
2 TB non fat Greek yogurt (or sour cream)
1 TB butter (I use Smart Balance)
4 garlic cloves, pressed
chives, optional
Place potatoes (with skin on) in pot, cover with water. Bring to a boil and cook until potatoes are fork tender. Place cooked potatoes into mixing bowl (I use my handy Kitchen Aid). Add butter, Greek yogurt and milk and start to mix. Start with 1/2 cup milk and add more if needed to taste. Add pressed garlic, chives (optional) and salt and pepper and continue to mix until it reaches desired consistency.